Official Opening Ceremony of 1st Africa-wide Postharvest Food Loss Reduction Conference & Exhibition
Read more...
Inception workshop for the Pest Risk Information Service (PRISE) which
took place on 16th - 17th March 2017 at Maanzoni Lodge, Machakos County.
The project is financed by the UK Space Agency through its International
Partnership Programme and is aimed at bringing together earth observation
technology, satellite data, and plant health modeling and real time ground
observation to deliver an early warning system on crop pests to farmers in
Kenya, Zambia and Ghana. At the inception workshop, stakeholders gained
more insights to the project, identified and confirmed the priority crops
and pest for the Kenya, available data and information on crop pests,
earth observation data and communication strategies that enable the
outputs of project respond to farmer needs and provide insight on how to
ensure sustainability of PRISE
2nd year students on an Academic Field Trip at KALRO Thika
Fruits Tree Planting ceremony Held at CAVS Field Station
fall Army worm on damaged corn leave
Chairman of the department during Fruits Tree Planting ceremony Held at CAVS Field Station
Moi Airbase partnered with CAVS during Fruits Tree Planting ceremony
Moi Airbase partnered with CAVS during Fruits Tree Planting ceremony
Presence of Loresho Primary and Secondary during Fruits Tree Planting at CAVS Field Station
Cheerful Ngong Hills Tree Planting Event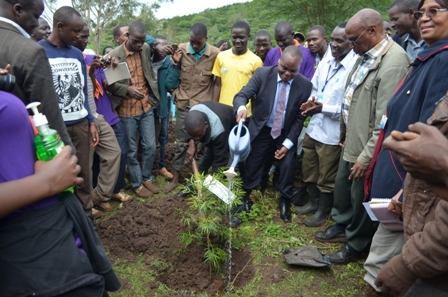 University of Nairobi team that participated in Ngong Hills tree planting event which was led by Prof. Agnes Mwangombe, Principal CAVS.
One of the core values that drive the University of Nairobi towards the direction of success is respect for and conservation of the environment. In upholding and demonstrating leadership in environmental conservation, students and staff members from CAVS participated in a tree planting activity at Ngong Hills.
Among the invited guests present were Prof. Isaac Mbeche, DVC (Student Affairs) and Prof. Peter M. Ngau, Principal College of Architecture and Engineering. International Livestock Research Institute (ILRI) and Kenya Wildlife Service (KWS) representatives were also present.
Prof. Isaac Mbeche, who also represented the Vice Chancellor, congratulated CAVS members for showing leadership in initiatives geared towards conserving the environment in Kenya. "I'm happy over the years you have managed to partner with like-minded individuals for this noble course of protecting the environment. I thank them all for their support". He recapped.
On his part, Prof. Peter Ngau added that the activity will not only ensure greening of the environment, but also a continuous flow of fresh water that is essential for wildlife.
The active participation of Prof. Agnes Mwang'ombe, Principal CAVS, has helped strengthen University of Nairobi's move to cut a niche in environmental conservation. The tree planting event at Ngong hills was intended to push for assimilation between the sprouting real estate sector and environmental conservation. It sought to minimize the negative environmental impact of buildings and construction activities through supporting efficiency and moderation in use of energy, materials and development space.
According to UN FAO, 6.1% or about 3, 467,000 ha of Kenya is forested. Of this, less than 2.175 comprise of indigenous forests. This is less than the recommended crown cover of 10-30% per (Kyoto Protocol). Loss of tree cover has impacted negatively on our climate, therefore leading to extended drought periods and disruptions of animal production and agricultural sector. As a result, poverty levels have risen.
CAVS will continue conducting such noble activities and strengthen links with collaborators.