CS Environment and Natural Resources Prof. Judi Wakhungu during handing over of Meteorological instruments to CAVS
The NPCK and Radboud University from The Netherlands partnered through a survey on 'Effectiveness of Networks in Seed Potato Sector Development in Kenya between March-April 2017
The NPCK and Radboud University from The Netherlands partnered through
a survey on 'Effectiveness of Networks in Seed Potato Sector
Development in Kenya between March-April 2017
Appreciating former Chairmen of the Department
The department of appreciated its former Heads of Department for their exemplary service on Thursday, 23rd November, 2017 front raw fro right Prof Michieka,Prof Mukunya,Prof Mutitu,Prof Waithaka, Prof Chemining'wa and Prof Hutchinson current chairman.
University of Nairobi Open Day.
Dr. Ambuko explains how the Zero Energy Brick Cooler works
Dr. Catherine Kunyanga explaining how the tunnel solar dryer works
Explaination at Receiving
MANGO PROCESSING CONSULTATIVE WORKSHOP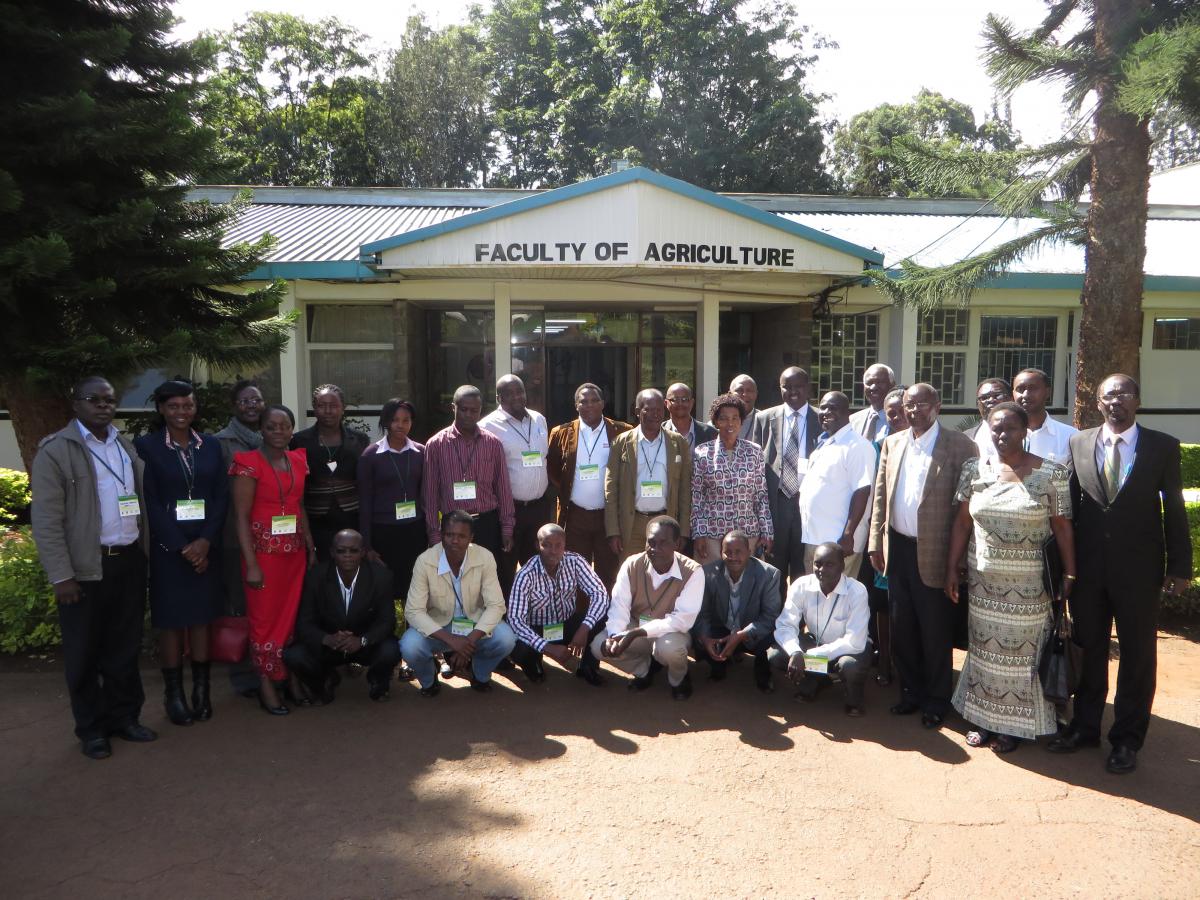 The 'Mango Processing Consultative Workshop' was held at the college of agriculture and veterinary sciences on 5th June, 2015. The workshop theme was
Innovative Quality Processed Mango Products for Reduced Postharvest Losses, Better Market Access and Improved Profits'. The workshop is one of the dissemination activities under the fruit value chain project titled 'Improving incomes for mango and passion fruit farmers and other value chain actors through enhanced commercialization of superior varieties, post-harvest technologies, value addition and utilization of mango and passion fruit products and by products' which is funded by the world bank under the Kenya Agricultural Productivity and Agribusiness Project (KAPAP).
The partners in the project include University of Nairobi (UON); Kenya Agricultural and Livestock Research Organization (KALRO); Jomo Kenyatta University of Agriculture and Technology (JKUAT); Kamurugu Agricultural Development Initiative (KADI) and Kenyatta University. The workshop which was organized and convened by Dr. Jane Ambuko, (the UON partner in the project) was attended by some of the partners and other stakeholders in the mango value chain. The other stakeholders in attendance included: Kenya Bureau of Standards (KEBS);Technoserve; Horticultural Crops Directorate (HCD);Azuri Health Ltd, Find Us in Africa Ltd, Kenya Industrial Research and Development Institute (KIRDI), DK Engineering Ltd. Some of the research findings on mango processing were presented. Additionally there were presentations from other invited speakers from JKUAT, KEBS, Technoserve, Find us in Africa, Azuri Health and KADI. There were fruitful discussions on important actions to be undertaken to ensure high quality processed mango products. The deliberations of the workshop will be shared with the relevant stakeholders with the aim of actualizing the proposals made during the workshop.See full report
Pictures of the Event (DO NOT USE):