Official Opening Ceremony of 1st Africa-wide Postharvest Food Loss Reduction Conference & Exhibition
Read more...
Inception workshop for the Pest Risk Information Service (PRISE) which
took place on 16th - 17th March 2017 at Maanzoni Lodge, Machakos County.
The project is financed by the UK Space Agency through its International
Partnership Programme and is aimed at bringing together earth observation
technology, satellite data, and plant health modeling and real time ground
observation to deliver an early warning system on crop pests to farmers in
Kenya, Zambia and Ghana. At the inception workshop, stakeholders gained
more insights to the project, identified and confirmed the priority crops
and pest for the Kenya, available data and information on crop pests,
earth observation data and communication strategies that enable the
outputs of project respond to farmer needs and provide insight on how to
ensure sustainability of PRISE
2nd year students on an Academic Field Trip at KALRO Thika
Fruits Tree Planting ceremony Held at CAVS Field Station
fall Army worm on damaged corn leave
Chairman of the department during Fruits Tree Planting ceremony Held at CAVS Field Station
Moi Airbase partnered with CAVS during Fruits Tree Planting ceremony
Moi Airbase partnered with CAVS during Fruits Tree Planting ceremony
Presence of Loresho Primary and Secondary during Fruits Tree Planting at CAVS Field Station
Pension Education day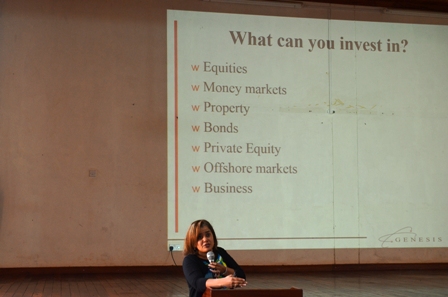 Pension Members' Education Day
Ms. Fahima Zein, the Fund Manager, Genesis Kenya Limited, giving tips on the best ways to invest and save earnings during the Pension Members' Education Day. Research has it that 75.8% of retired individuals use their lump sum benefits on consumption commodities; only 21.4% bother to invest.
Members of staff had an enlightening moment during the Pension Members' Day HELD AT THE 8.4.4 lecture Hall.
The event was opened by Prof. Lucy Irungu, Deputy Vice-Chancellor Research, Production & Extension and Acting Chair Representative of the Council. In her speech, she thanked members for their committed contribution towards the pension kitty. Thanks to that, the University had broadened its capital base and diversified its investment portfolio. Some of the sectors in which the University has invested in are; Treasury Bills, Kenya Government Securities, Corporate Bonds, Quoted Shares, Cash and fixed Deposits and Property ownership.
She expressed gratitude to trustees and fund managers and a recognized the fact that pension members' funds had generated an upward growth of 3 billion within a year.
"I encourage all members to update their nomination of beneficiary forms regularly, consider actively participating in post-retirement medical scheme and make additional voluntary pension contributions in order to enhance their benefits earned," she reiterated.
In addition, members had an opportunity to interact with Ms. Fahima Zein, the Funds Manager, Genesis Kenya Ltd. She encouraged them to invest, save and spend their salaries wisely.
The Vice-Chancellor, Prof. Peter Mbithi was present in the event. Vote of thanks was given by Prof. Charles Mulei, acting Principal, CAVS.