Presence of Loresho Primary and Secondary during Fruits Tree Planting at CAVS Field Station
Chairman of the University Council Dr. Farah speaks during SeMIs Inauguration
Prof. Kimenju Dean Faculty of Agriculture at the 55th graduation ceremony
Prof John Nderitu and colleagues attending a workshop at The Nairobi National Museum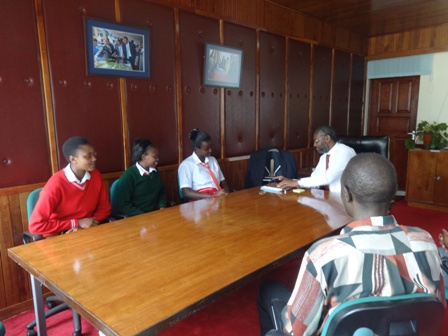 Principal CAVS welcome Gatugi Girls during their visit
Principal CAVS speaks to Gatugi Girls Sec. during their visit
Prof.Kiama the principal CAVS welcomes Gatugi Girls Sec. School.
Tree planting in CAVS Kabete - Field Sattion
Tree planting activity toward environmental conservation.
One of the core values that drive the University of Nairobi towards the direction of success is respect for and conservation of the environment. In upholding and demonstrating leadership in environmental conservation, students and staff members from CAVS participated.