Chairperson of Karurumo Self-help Horticultural Farmers during the (SAP) Project Inception/Stakeholders Meeting at Karurumo
Strengthening African Processors (SAP) Project Inception/Stakeholders Meeting
Read more...
Smart-harvest as Featured on the Standard News Paper on Saturday
Dept. PS&CP participates during Annual Sports day
Visit to Utafiti School at Kibwezi
Launch of UoN Strategic Plan 2019
Staff members from department of Plant Science and Crop Protection during UoN Annual prayer day 2019
Chairman Department of Plant Science and Crop Protection during UoN Council Visit 2019
Members of staff from Depart. PSCP part of delegation during UoN Council Visit to CAVS at WMI premise 2019
Easter Holiday Wishes by Vice Chancellor UoN - 2019
Pension Education day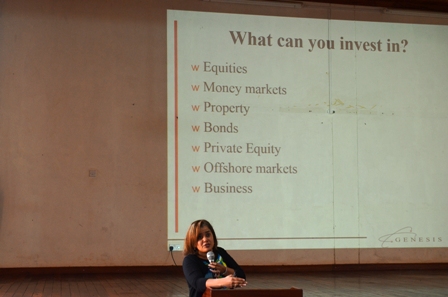 Pension Members' Education Day
Ms. Fahima Zein, the Fund Manager, Genesis Kenya Limited, giving tips on the best ways to invest and save earnings during the Pension Members' Education Day. Research has it that 75.8% of retired individuals use their lump sum benefits on consumption commodities; only 21.4% bother to invest.
Members of staff had an enlightening moment during the Pension Members' Day HELD AT THE 8.4.4 lecture Hall.
The event was opened by Prof. Lucy Irungu, Deputy Vice-Chancellor Research, Production & Extension and Acting Chair Representative of the Council. In her speech, she thanked members for their committed contribution towards the pension kitty. Thanks to that, the University had broadened its capital base and diversified its investment portfolio. Some of the sectors in which the University has invested in are; Treasury Bills, Kenya Government Securities, Corporate Bonds, Quoted Shares, Cash and fixed Deposits and Property ownership.
She expressed gratitude to trustees and fund managers and a recognized the fact that pension members' funds had generated an upward growth of 3 billion within a year.
"I encourage all members to update their nomination of beneficiary forms regularly, consider actively participating in post-retirement medical scheme and make additional voluntary pension contributions in order to enhance their benefits earned," she reiterated.
In addition, members had an opportunity to interact with Ms. Fahima Zein, the Funds Manager, Genesis Kenya Ltd. She encouraged them to invest, save and spend their salaries wisely.
The Vice-Chancellor, Prof. Peter Mbithi was present in the event. Vote of thanks was given by Prof. Charles Mulei, acting Principal, CAVS.