Moi Airbase partnered with CAVS during Fruits Tree Planting ceremony
Presence of Loresho Primary and Secondary during Fruits Tree Planting at CAVS Field Station
Chairman of the University Council Dr. Farah speaks during SeMIs Inauguration
Prof. Kimenju Dean Faculty of Agriculture at the 55th graduation ceremony
Prof John Nderitu and colleagues attending a workshop at The Nairobi National Museum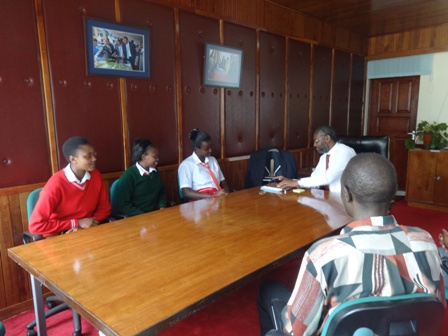 Principal CAVS welcome Gatugi Girls during their visit
Principal CAVS speaks to Gatugi Girls Sec. during their visit
Prof.Kiama the principal CAVS welcomes Gatugi Girls Sec. School.
Consultancy and advisory services commitee
overview
Members of department of Plant Science of Crop Protection provide consultancy services on disease and pet diagnostics and provide service to screen all groups of pesticides that include; fungicides, herbicides, insecticides, adjuvants and growth promoters of chemical and biological nature that are used to control insects, diseases and weeds in horticultural crops like vegetables, fruits and flowers, in different seasons to establish the effect of the products.
We the members of above department over the years with experience have developed methods/protocols to conduct field, green house and laboratory testing of agro chemicals and biologicals that improve crop yields by protecting them from pests and diseases. Some of the crops we had worked with are shown in the pictures. Evaluations/testing is done with uttermost care and results and reports are produced to highly satisfied agro-chemical industry players and farmers
Responsibilities
Plant health clinics
Client driven research
Group consultancy
Members
Dr. R.D. Narla, Ph.D (Osmania University) M.Sc.(Banaras Hindu University);,B.Sc (AP Agric University)

Dr. Rama D. Narla has been an academic member of staff for the last twenty six years in the Department of plan Science and Crop Protection. Dr. Narla holds a PhD in Microbiology from Osmania University, Hyderabad, India and an MSc in Mycology and Plant Pathology from Barnaras Hindu University and BSc in Agriculture from Andhra Pradesh Agricultural University in India.

Since joining the University in 1989, Dr. Narla has actively engaged in research, student training and outreach in key areas of Plant Pathology, Virology and general crop protection.Read more

Prof Eunice Mutitu

B.Sc. Agric (UoN);M.Sc. Plant Pathology (UoN);Ph.D Plant Pathology

Tel: +254-02-318262 EXT. 28267
Email: mutitu@uonbi.ac.ke

Prof. Eunice Mutitu is a full professor of the Department of Plant Science and Crop Protection and is currently the Director of Board of Post graduate Studies of the University of Nairobi. She previously served as the Chairman of the Faculty of Agriculture Post graduate studies committee and the founding Chairman of the Department of Crop Protection. She has served the University of Nairobi for several years where she is an active member of staff.

Her Research interests include:

Dr. Dora Chao

Phd (UoN) MSc (UoN) BSc (UoN)

Apart from passion fruit research, I teach agriculture entomology and Crop pest management to the undergraduate and post graduate students. In addition I mentor my students to work diligently and obtain quality outputs that would make them stand out of the crowd and be recognized and as an AWARD alumnus (2008), I am working at influencing (mentoring) as many women students as possible to build and anchor their careers in agriculture so that together we can fight food insecurity not only in Kenya but in Africa. Hopefully this will help reduce the leakage in the pipe between enrolling and the numbers we have on the ground attending to agriculture research and dissemination of the information.Read more