Moi Airbase partnered with CAVS during Fruits Tree Planting ceremony
Presence of Loresho Primary and Secondary during Fruits Tree Planting at CAVS Field Station
Chairman of the University Council Dr. Farah speaks during SeMIs Inauguration
Prof. Kimenju Dean Faculty of Agriculture at the 55th graduation ceremony
Prof John Nderitu and colleagues attending a workshop at The Nairobi National Museum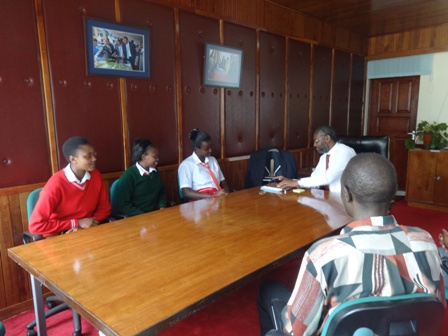 Principal CAVS welcome Gatugi Girls during their visit
Principal CAVS speaks to Gatugi Girls Sec. during their visit
Prof.Kiama the principal CAVS welcomes Gatugi Girls Sec. School.
Allium cepa roots undergoing staining for use during Genetics practical on Mitosis
Well stained root-tips ready for use in making slides to view different stages of Mitosis cycle. The stain used is Leuco basic Fuchsin. before which the roots are first grown over water as our media, then they are fixed for 24hrs using Aceto-alcohol (1:3). after which they are hydrolysed using 1N/HCl. at 60o C for 10minutes.