Presence of Loresho Primary and Secondary during Fruits Tree Planting at CAVS Field Station
Chairman of the University Council Dr. Farah speaks during SeMIs Inauguration
Prof. Kimenju Dean Faculty of Agriculture at the 55th graduation ceremony
Prof John Nderitu and colleagues attending a workshop at The Nairobi National Museum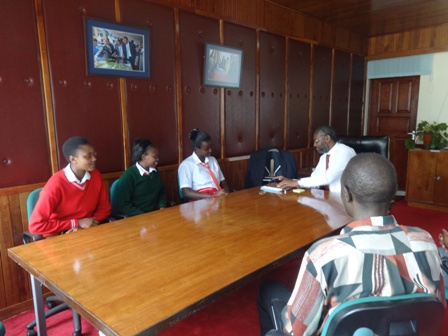 Principal CAVS welcome Gatugi Girls during their visit
Principal CAVS speaks to Gatugi Girls Sec. during their visit
Prof.Kiama the principal CAVS welcomes Gatugi Girls Sec. School.
International Post-Harvest Management training workshop
The College of Agriculture and Veterinary Sciences (CAVS), Department of Plant Science and Crop protection, University of Nairobi, in collaboration with University of Sydney, will conduct a one week post-harvest Management Training workshop of Maize, Rice and Legumes at the Southern Sun Mayfair Hotel, Nairobi and the College of Agriculture and Veterinary Sciences, Kabete Campus from 10th -14th November 2014. This is the third course of the programme being run under this collaboration, the first one having been done in October, 2012. The programme is led by Prof. Florence Olubayo of the Department of Plant science and Crop Protection. Other collaborating Institutions in the Training programme include, University of Stellenbosch in South Africa and Kwame Nkrumah University of Science and Technology in Ghana.
This course is designed for African mid-career professionals working in post-harvest related agricultural industries, both in government and the private sector. It is designed to increase their understanding and applied knowledge of modern post-harvest issues, particularly focussing on storage and pest/disease control. It is also designed to facilitate the building of networks within Africa among participants, as well as develop cross Africa-Australia linkages in this area. It is a flexible program, tailored to accommodate those from a range of backgrounds
Prof. Florence Olubayo
Department of Plant Science and Crop Protection