Presence of Loresho Primary and Secondary during Fruits Tree Planting at CAVS Field Station
Chairman of the University Council Dr. Farah speaks during SeMIs Inauguration
Prof. Kimenju Dean Faculty of Agriculture at the 55th graduation ceremony
Prof John Nderitu and colleagues attending a workshop at The Nairobi National Museum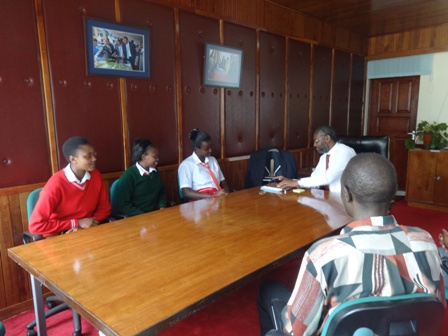 Principal CAVS welcome Gatugi Girls during their visit
Principal CAVS speaks to Gatugi Girls Sec. during their visit
Prof.Kiama the principal CAVS welcomes Gatugi Girls Sec. School.
Mentoring Session with Children from Kibera
Prof. Jesang Hutchinson held a mentoring session with 17 grade 6 girls and 4 mentors from Kibera's rescue centre, Shining Hope for Communities (SHOFCO) at the Faculty of Agriculture building. The girls made at our of the College of Agriculture and Veterinary Sciences, held a 2 hour mentoring session and then were hosted for lunch at the Hutchinsons' residence. The girls and mentors were very inspired to make their dreams of receiving a university education a reality not withstanding the current struggles and challenges.