Presence of Loresho Primary and Secondary during Fruits Tree Planting at CAVS Field Station
Chairman of the University Council Dr. Farah speaks during SeMIs Inauguration
Prof. Kimenju Dean Faculty of Agriculture at the 55th graduation ceremony
Prof John Nderitu and colleagues attending a workshop at The Nairobi National Museum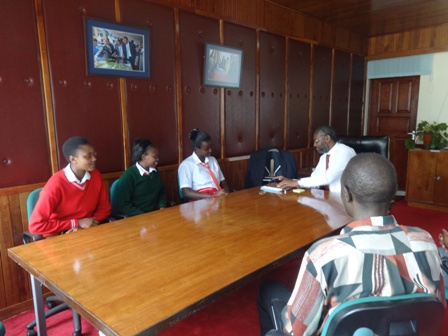 Principal CAVS welcome Gatugi Girls during their visit
Principal CAVS speaks to Gatugi Girls Sec. during their visit
Prof.Kiama the principal CAVS welcomes Gatugi Girls Sec. School.
Prof. George N. Chemining'wa
It is my pleasure to introduce to you the Department of Plant Science and Crop Protection.This Website provides a very significant window through which our Vision,Mission,key services and products can be highlighted. A visit through our Department will reveal an intellectual powerhouse based on a unique diversity of expertise that is committed to underpin the challenges of crop production in tropical environment.
In addition to generating and imparting knowledge, the Department offers a comprehensive range of services to the greater Kenyan community. Key among these are advisory and consultancy service to farmers, tailor-made courses, outreach services, production of farmer manuals, and participation in agricultural flora.
View Prof. George Chemining'wa Profile