Degree Programme
Master of Science in Crop Protection
Research Topic:
ADAPTATION OF COMMONLY GROWN KENYAN POTATO CULTIVARS TO DIVERSE AGRO-ECOLOGICAL ZONES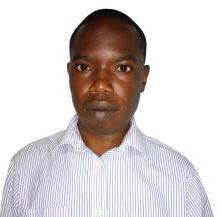 Biography
I am a trained and experienced professional in crop sciences. I have tangible skills in aspects of crop protection and crop improvement. I have gained these from both national and international organizations that I have worked with such as ICIPE, KARI and University of Nairobi among others. This coupled with professional training in of the
renowned training institutions have enhanced my skills.
Abstract
Potato (Solanum tuberosum L.) grows best in cool areas where there is reliable water supply. Inadequate water supply and elevated temperatures significantly reduces tuber yield. Identification of potato
genotypes that have a wider adaptation to different production environments that vary in temperature and humidity is increasingly becoming an important. The lack of stable and widely adapted potato
varieties that can withstand the effects of unpredictable weather is a major contributor food and nutritional insecurity. Unstable and poorly adapted varieties are major limiting factors to potato production. This
study aimed at evaluating and selecting genotypes that have broad adaptability, specific adaptation and stable for tuber yields across diverse environments. The approach was to test elite genotypes in
different environments under conventional or farmers' practices andintensive management (high input production) systems. Twenty-seven elite potato genotypes that were genetically diverse comprising of ten
Table type genotypes and twenty-three Processing type genotypes were used in this evaluation. The experimental design was Randomized Complete Block Design and replicated thrice and managed using
conventional and intensive approaches. The results indicated that genotypes interacted differently with the different environments. The environmental influence was responsible for the yield diversity. Narok
and Suera locations provided conducive environment for the two types of potato genotypes whereas Kibirichia was not favorable for potato production. The intensive management practices influenced marginal
tuber yield gain for both the Table and Processing types. The implementation of the intensive management can be best applied when the economic value of the yield is well established
Important Links
https://scholar.google.com/citations?hl=en&user=wZGipCcAA AAJ&view_op=list_works&sortby=pubdate
Research Supervisors
Prof. Eliud Ngugi, Dr Thaigo Mendes and Prof Richard Nyankanga